Link secondo incontro transnazionale in Italia
Il 13 e 14 dicembre 2022 si è tenuto a Trani, in Italia, il secondo incontro transnazionale del progetto LINKS – Development of the Digital Sovereignty Competences of Youth Workers, ospitato da PETIT PAS APS.
I partner di Danimarca, Slovenia, Spagna, Grecia e Irlanda, con la partecipazione online del partner estone, si sono incontrati di persona per monitorare lo sviluppo dei risultati del progetto e pianificare le attività necessarie al loro completamento.
Attualmente siamo in una fase di revisione del risultato 1 del progetto LINKS Digital Sovereignty Competences Framework, sulla cui base sono stati decisi di comune accordo i passi da intraprendere per procedere con l'implementazione del risultato 2 LINKS online platform and training material on Digital Sovereignty Competences.
L'incontro è stato un'ottima occasione per discutere, scambiare idee e risolvere dubbi.
Presto saremo in grado di aggiornarvi anche sul terzo risultato del progetto: LINKS Digital Game: Alla conquista della sovranità digitale.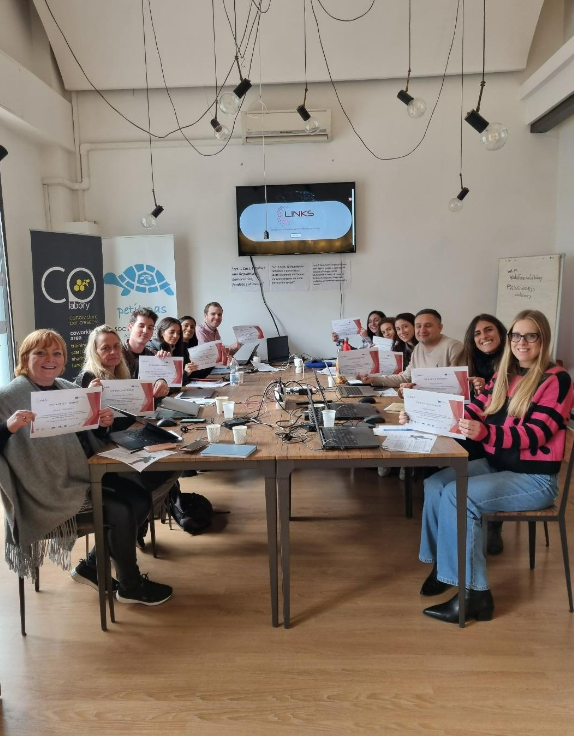 Questo progetto è stato finanziato con il sostegno della Commissione Europea. Questa pubblicazione riflette solo le opinioni dell'autore e la Commissione non può essere ritenuta responsabile per qualsiasi uso che potrebbe essere fatto delle informazioni in essa contenute. 2021-2-DK01-KA220-YOU-000050308
Copyright © 2022 LINKS. All Rights Reserved